Plantlife Canada
Plantlife Canada is a proud Albertan owned and operated cannabis retailer that has over 18 locations and counting. Marketing in the Canadian cannabis industry presents many challenges. Working with The Plantlife internal marketing team to understand and implement marketing content that meets guidelines and regulations was integral to the digital marketing strategy.
Paid media is not possible in this industry in non-age restricted environments. As a result marketing efforts went into advanced organic search engine and google maps strategies. Being in the "Google Golden 3" on location based google maps search results became an integral part fo each locations walk-in traffic. To do this, a system and training program was put in place within the Plantlife organization to ensure location managers understood the importance of reviews, pictures and having up to date information on each locations GMB profile.
An advanced Google Maps Optimization strategy was used, aimed to get all Plantlife locations into the "Google Golden Three" on maps search results.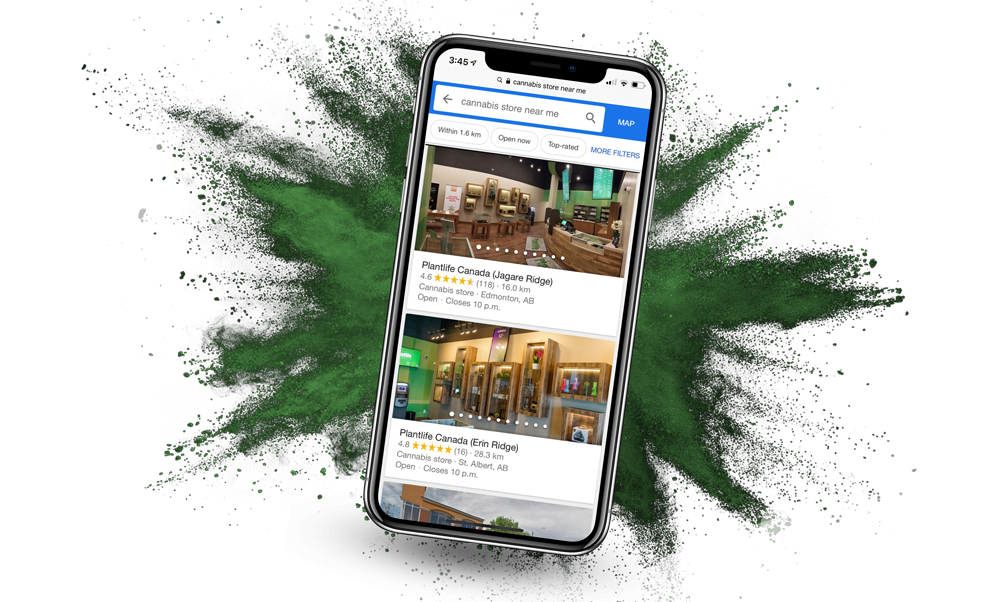 Finding locations to market and achieve awareness in age restricted settings and then making content that follows legislation takes extra effort and resources to procure, but makes the difference in standing out from the competition.